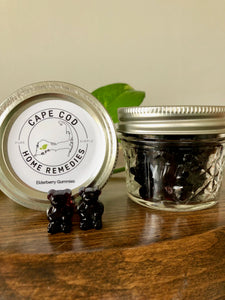 This item cannot be shipped.  It is for local delivery/pick up only. Please reach out to us prior to purchasing if you are unsure
We will be selling gummies until the end of March.  We will then take a break until end of summer...if you want them, grab them before they are gone 
Elderberries work by assisting in the prevention of flu and colds.  Taken daily it helps to boost the immune system.  If you are sick or feel something coming on, if elderberry is taken every 2-3 hours, it can lesson symptoms by days!
Jar of 30 gummies
elderberry syrup, honey, gelatin + tart cherry juice
TO USE- Children and adults take 2-4 daily. If sick, take same dose every 2-3 hours. Elderberry gummies must be refridgerated!
THIS ITEM IS NOT ELIGIBLE FOR SHIPPING