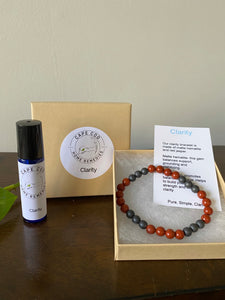 We all could use more clarity in our life. This set includes a bracelet made with matte hematite and red jasper stones, and our ever popular Clarity oil blend. It includes a card that shares what the intentions are, all in an adorable brown box. 


Matte hematite- balances support, grounding and is stabilizing. 


Red jasper- promotes balance and courage. Helps to build your inner strength and instills clarity. 


Clarity oil blend-  jasmine, lemon, rosemary + sweet almond oil